M906 – Clamping arms
Design: Material steel C45, bronzed
As standard you can select from two different variants:
The blank is overmilled on all sides, cone mounting and indexing are integrated. This ensures a problem-free adaptation to our swing clamps. The clamping arm can be adapted to your requirements and must only machine the finished contour.
On request we will be glad to produce for you a completely machined custom clamping arm from our blanks.
For this please send us a Step file, and we can then create a quote for you.
Our completely machined standard clamping arms can be ordered in three lengths. We supply them with indexing groove.
The standard clamping arms correspond to the external dimensions of the blanks and are additionally provided with slanted tapered ends and threads for adaptation to a pressure piece.
The threads are omitted from the short design.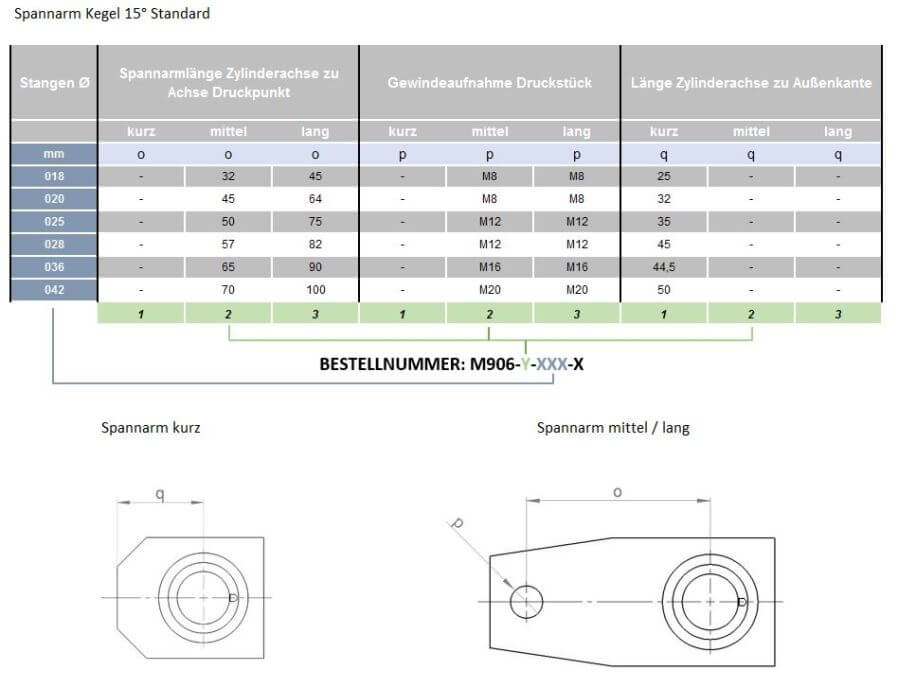 General Information
Please note that the maximum allowable volume flow and the maximum allowable pressure is dependent upon the length of the clamping arm. For the design of the clamping arms use the clamping force graphs, which are found in the technical information .
Also you receive production drawings of the cone connection and the indexing groove in the technical information area, if you want to produce your clamping arms yourself.
Assembly instructions: When tightening or loosening the clamping arm nut, make sure that the piston rod is resisted using an Allen wrench!